In the next set of blogs we will start exploring the different steps in the road to sale. In our in store application we have modules that helps the dealership define the different steps every sales person should do as part of closing the sales. At a high level we define the following steps
Meet & Greet
Needs Assessment
Product Presentation
Demonstrate A Vehicle
Look at the Customer's Trade
Provide Pencil Payment
Close the Sale
Closing the Deal
In this blog we will cover the first and most important step – Meet & Greet.
Does customers buy from people they like or people they trust?
We all tend to entertain sales people who we like but that does not mean that we will sign a contract to some one we just met. The trust-building between a customer and sales person starts from the outset, when they first encounter at the show room or lot or when they read one of the emails. This is why meet and greet is very important. It gives the sales person a chance to put the best foot forward.
Let us take a look at some of the best retail experiences and see how the dealership meet and greet process can be reinvented.
Here is what Ritz Carlton defines for their gold standards of customer service. https://www.ritzcarlton.com/en/about/gold-standards
The relevant ones for every Ritz Carlton Meet & Greet are given below
Three Steps Of Service
A warm and sincere greeting.
Use the guest's name. Anticipation and fulfillment of each guest's needs.
Fond farewell. Give a warm good-bye and use the guest's name.
Service Values: I Am Proud To Be Ritz-Carlton
I build strong relationships and create Ritz-Carlton guests for life.
I am always responsive to the expressed and unexpressed wishes and needs of our guests.
I am empowered to create unique, memorable and personal experiences for our guests.
I am proud of my professional appearance, language and behavior.
Now let us take a look at another experience, Apple store and how they define it. Apple recognize that apple store is all about people and not products. Products sells themselves but people make the experience better.
Apple Store associates are trained to walk customers through five distinct service steps
A: Approach customers with a personalized, warm welcome
P: Probe politely to understand the customer's needs
P: Present a solution for the customer to take home today
L: Listen for and resolve issues or concerns
E: End with a fond farewell and an invitation to return
The Apple Store's magic formula: Building relationships is the secret to selling more products.
What are the best elements of a good meet and greet process ?
Warm Greeting by receptionist, greeter or sales person.
Mandatory handshakes with all members of the customer family.
Get to know the customer & Build rapport with leading questions.
No Prejudice and No judging.
Manager introduction if possible.
Implement an Up system to bring accountability to sales greeting process
As a practice, at least spend 2-3 minutes introducing you and the dealership as part of the meet and greet. We have built an up system in our in store digital retailing platform to make sure a dealership can implement these processes seamlessly.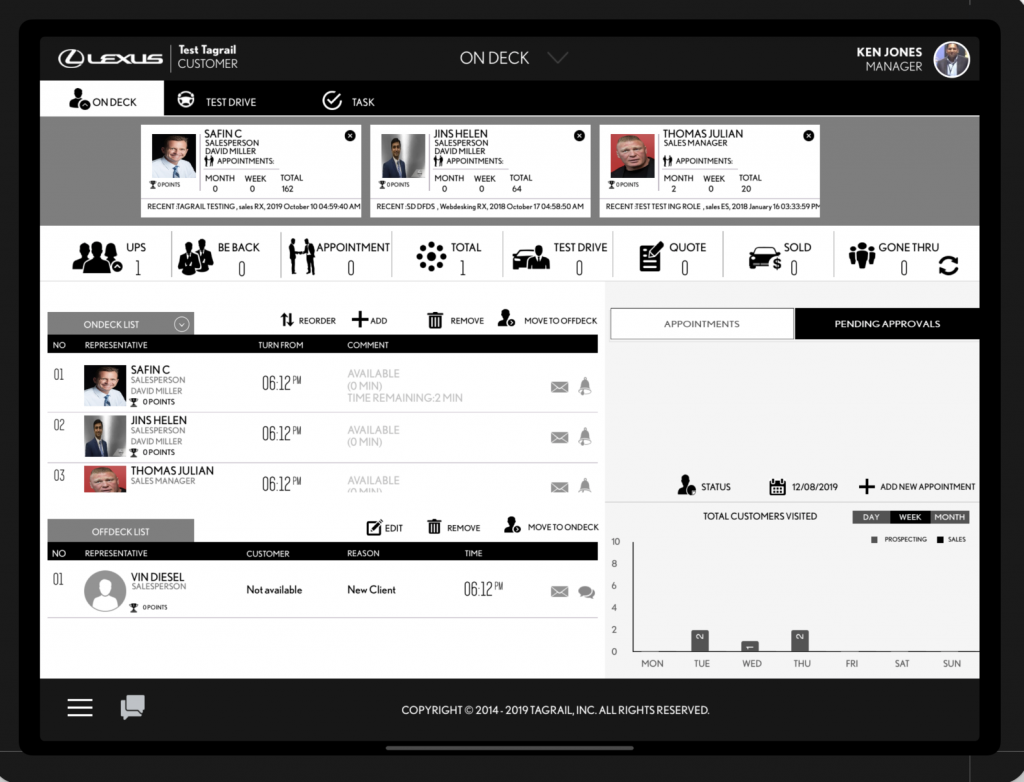 In the next blog we will look at the Needs Assessment & Customer Discovery process.