A tailwind is a wind that blows in the direction of travel of an object, while a headwind blows against the direction of travel. A tailwind increases the object's speed and reduces the time required to reach its destination, while a headwind has the opposite effect.
There are many dealerships still on the fence when it comes to selling vehicles online. In this post we will look at two of the leaders in used car online sales and see how their numbers stack up and discuss their strategies for the new decade. CarMax and Carvana are the two companies that exclusively cater to the needs of the online buyer.
If you haven't noticed them till now, let us look at some of the google listings in the search engine result page (SERP) for the query – "buy used car online near me"


CarMax is the United States' largest used-car retailer and a Fortune 500 company. Carmax makes an average gross profit per unit of $2,166 and they spend 43.8 million in advertising in 2019. Advertising cost per unit of sales is $60.8 and SG&A expense per unit is 2,380.Total gross profit per unit is $3,326. That means for every 60 dollars in advertising. Carmax is making 55x returns. No wonder their SERPs are performing better.
This is the latest excerpts from the conference call on Dec 20,2019
CarMax CEO Bill Nash explained: "Approximately 40% of our customer base currently has access to our omni channel experience, and we are on track to reach the majority of our customers by the end of this fiscal year in February. We plan to complete the rollout in the next fiscal year."

CarMax is still running full speed ahead with its online purchasing offering, and there are a few encouraging early data points on that initiative, including the fact that markets with the multi-channel experience are growing faster than their single-channel counterparts.Management says it is still confident that this new approach will drive faster sales growth while improving profitability as compared to the traditional selling model.
CarMax is definitely facing head winds with the new approach of driving faster sales growth while improving profitability as compared to the traditional selling model. CarMax is roughly servicing 2% of the used car market but their growth strategy is to make the online customer experience seamless and reduce their showroom spend. This strategy is already advocated by Tesla, who is already shutting down their showroom sales.
Let us take a look at the second big player in the market – Carvana.
Carvana is an online used car retailer and technology business based in Tempe, Arizona.[1] The company is known for its car sized vending machines, and in 2018 it was reported to be the fastest growing used car dealer in the United States.Carvana operates as an online-only used car dealer that allows customers to shop, finance, and sell or trade-in cars through their website.[7][8][9] The company gives customers the option of having their purchased vehicles delivered to them or they can choose to pick them up at one of the company's 18 car vending machines.[8]
Carvana CEO, in an 2018 interview, projected to sell 2 million vehicles online. Let us see what really happened based on Q3 report. The projections for Y2019 are the following
Retail unit sales of 174,000 – 176,000, an increase of 85% – 87%
Revenue of $3.85 billion – $3.95 billion, an increase of 97% – 102%
Total gross profit per unit ex-Gift of $2,825 – $2,875, an increase from $2,133
Carvana needs to grow 10x to hit the 2 million target and that is not going to be easy. Their multi year strategy aims at covering majority of the US population.
"In addition to launching and rapidly scaling new customer offerings, our business model has proven that it can expand quickly into new markets and regions. In the past, we have discussed a target market framework that covered 80% of the U.S. population. Based on the success of our 2019 cohort, which included many smaller markets than we have historically launched, we now believe we can efficiently serve 90%+ of the U.S. population in our markets over time. In addition, we believe we can efficiently serve another 5% of the U.S. population in smaller cities and towns through delivery
from our nearby markets, ultimately bringing the total share of the population we serve to 95%."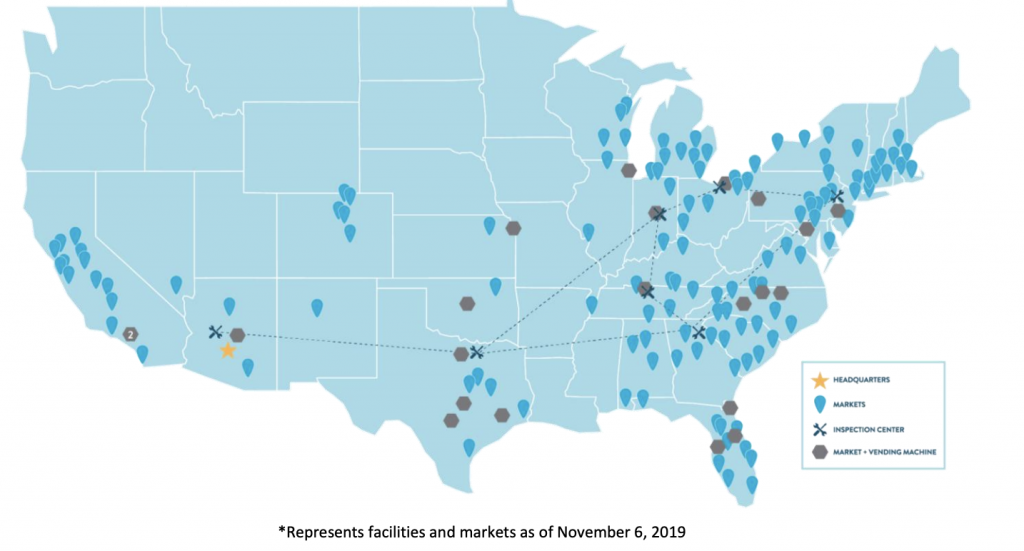 Carvana is also facing headwinds to hit their target but they are also doubling down on the strategies of online purchase and home delivery for used car vehicles.
Competitive advantage for Dealers
While the broader market is grappling with building presence and delivery infrastructure, existing dealers have significant advantages. Most dealerships are significant contributors to the local community and the economy. Their name recognition and presence already ensures a trust factor for majority of the local population. What really need is a change in dealership mindset. We cannot ignore the fact that Carvana and CarMax are threats in used car market. As everyone knows, per unit profit is more in used cars than the new ones.
The strategy of eliminating showroom staff to do the sales may not be ideal in many markets. Even though vending machines are a convenience factor, people buy from people like them. Technology should be about bringing trust and not for removing relationships. What really need to happen at the dealership level is to stream line the sales process so that the pricing is transparent, convenience is paramount and the showroom visit is all about the ownership experience.
The existing advertising spend need to be re-tailored to go head to head against CarMax and Carvana. In the experiments that we conducted, none of the local dealers came up positively in the google SERPs for the "buy online" query. Dealership digital teams need to look at the google advertising and the landing pages to make sure that there is a path forward for the online buyer.
It is time for dealers to catch the tailwind of Digital Retailing and it should be main strategic initiative for the new year. If you want to know more on how we can help you to achieve this, please let us know