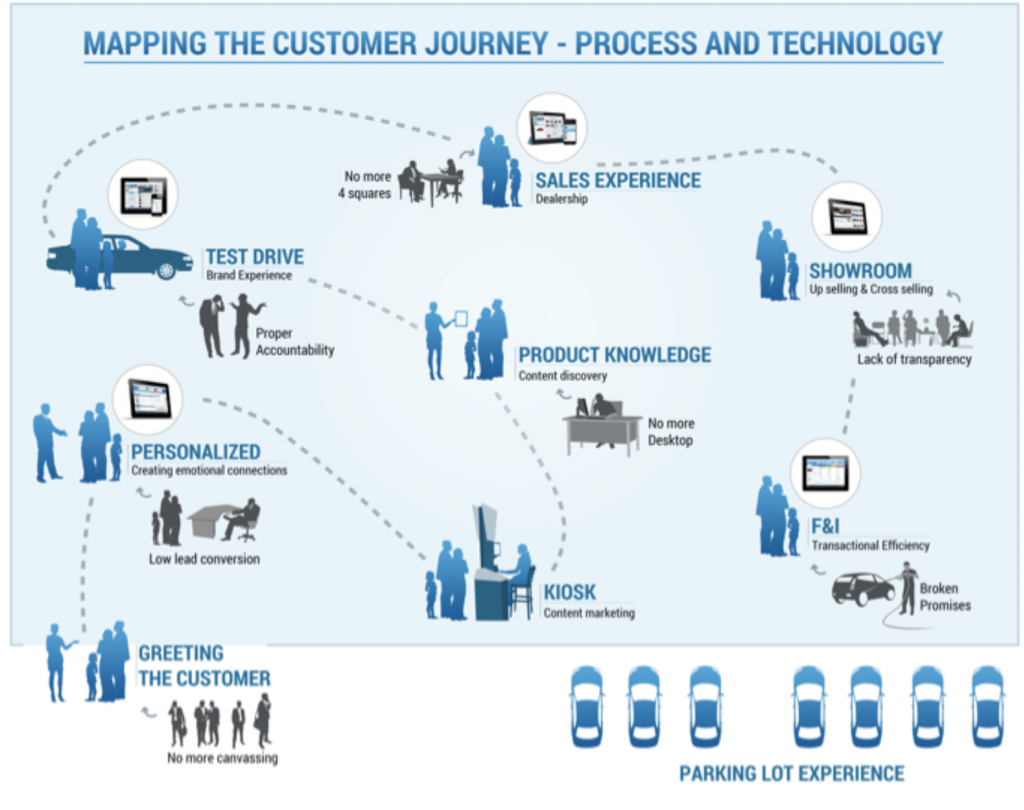 The Tagrail process adopts from successful methodologies that has been used in car dealerships and does not reinvent the wheel when it comes to best practices. However there are two main differentiators in our sales process and they are
Transparent customer experience
The process puts the customer at ease at every step of the interaction through efficient use of technology. All the necessary information about the vehicle (like specifications, videos, brochures, pricing) is available in the tablet.
Digitizing the process by capturing licenses, personal information and secure transmission to the CRM.
Efficient Sales Process
Sales person can easily interact with the Sales managers via secure messaging, present payment options, and provide quotes to the customers without leaving them at any point of the process.
Sales Managers can track the test drives, customer ups, be backs, time taken by each customer at the dealership.
Single point of entry and integration to CRM, Desking helps move the process faster.
A typical road to sale consists of the following steps. By having the Tagrail Platform the salesperson will be at customer's side every step of the way and work interactively in closing the sale.
Step 1: First Impression – Meet & Greet
Up system and turn based rotation
Step 2: Building Trust
Provide Apple store experience
Professional Interaction
Step 3: Needs Assessment
Customer Interview
Referral Source
Step 4: Product Presentation
Sell the dealership
Sell the Brand & Vehicle
Inventory Lookup
Step 5: Demonstrate A Vehicle
Test drive
Experience Capture
Step 6: Look at the Customer's Trade
Trade Walk through
Appraisal Presentation
Step 7: Provide Pencil Payment
Lease/Retail/Cash first pencil
Fuel Savings/ Rebates presentation
Step 8: Close the Sale – Getting to Know Your Customer
Credit Evaluation, Soft Pull, Hard Pull
Step 8: Closing the Deal – Fielding Objections
Step 8: Closing the Deal – Commitment to Purchase
Step 9: Turnover and Delivery
One of the main elements in Tagrail digital retailing is keeping the human element at the center of the process. The human experience of guiding a customer through the purchase is aided by the Tagrail iPad app as easy click through modules. The end goal is a Shoulder-to-Shoulder experience between sales consultants and the customers.