Marketing is responsible for generating as many leads as possible in order for the Sales team to sell to more and more customers. A typical rule of thumb is to throw advertising dollars to increase the website traffic and hoping for one of the CTA actions in the website will hook the visitor. There is a major flip side to this approach. Many of the leads that come through the marketing funnel are usually either not sales-ready and will require more time and effort from the sales team through additional follow-ups. And when internet traffic increases, we increase both the number of good leads and junk leads, and this actually makes the Sales team less productive, leading to ruffled feathers between sales and marketing. A marketing layer that works alongside the digital retailing suite can help automate some of time-consuming lead qualification processes and bring efficiencies to the sales process.
The time and effort follow the "Pareto Principle" or "80–20" rule.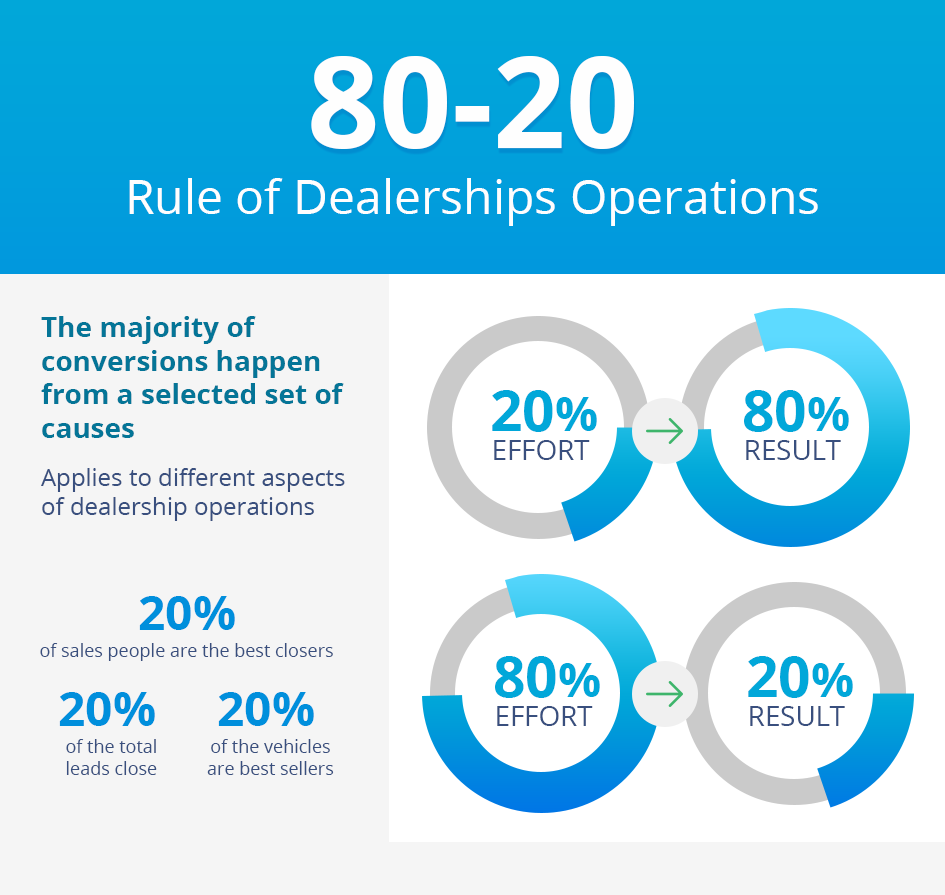 ---
As digital retailing moves mainstream and start mirroring the online checkout experience of retailers like Amazon and eBay, we should also start considering what happens for re-engagement if the shopping cart is abandoned.
Roughly 67 percent of online shoppers abandon their carts before completing the purchase; that rate grows to 73 percent for fashion companies, compared to 55 percent for food and drink sites. There are many factors that contribute to people not following through with a purchase — concerns about fairness, speed and convenience— pose a greater challenge in automotive retail.
We are now conditioned to an environment where people crave for instant gratification. An abandoned session doesn't merely mean the customer decided not to purchase, it may just mean that the customer decided not to purchase from the dealer based on whatever information is provided to them — may be price was not right, may be trade-in estimate was low, may be the check out experience was slow. Customer does not tell the reason, it is for the marketer to figure out what could be the reason and find the optimum strategy for reengagement. Most marketers know that three in every four abandoned carts are recoverable with proper campaign execution. A digital retailing platform should be agile and give the full context and prescriptive actions for the marketing department to re-engage customers. This is the concept of Agile Marketing.
There are three key elements to Agile Marketing.
1. Dynamic Personalization
Dynamic personalization involves automatically personalizing different sections of content within the email, ads, social media, or other channels to feature products, information, and offers that are relevant to customers based on their current behavior and past browsing history.Customers dropping of the funnel can be reengaged through personalized landing pages with customized discount/pricing determined by the conversion likelihood.At a minimum, an automatic email should be send with the specific items left in their cart.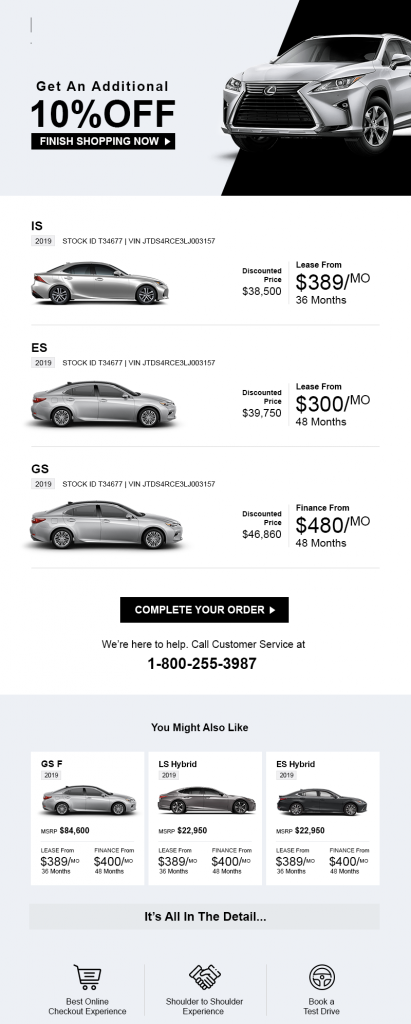 2. Customer Segmentation
Segmentation involves grouping online visitors based on a variety of attributes for more targeted messaging and analysis. Segmentation allows for engaging or re-engaging customers based on a variety of behavioral characteristics ( Deal conscious vs Experience conscious vs Brand conscious).
3. Marketing Automation
Marketing Automation serves as the brain behind personalizing the onsite customer journey. Every website visitor may be a potential customer, and we need to automate welcome campaigns that immediately engage new shoppers and increase the conversion rates. Abandoned cart emails are a way to remind a shopper that he/she may miss out on a good deal on the vehicle. If the vehicle goes down in price or another vehicle of interest is stocked in inventory the customer needs to be emailed that information as well. All of these can be automatically setup through marketing automation.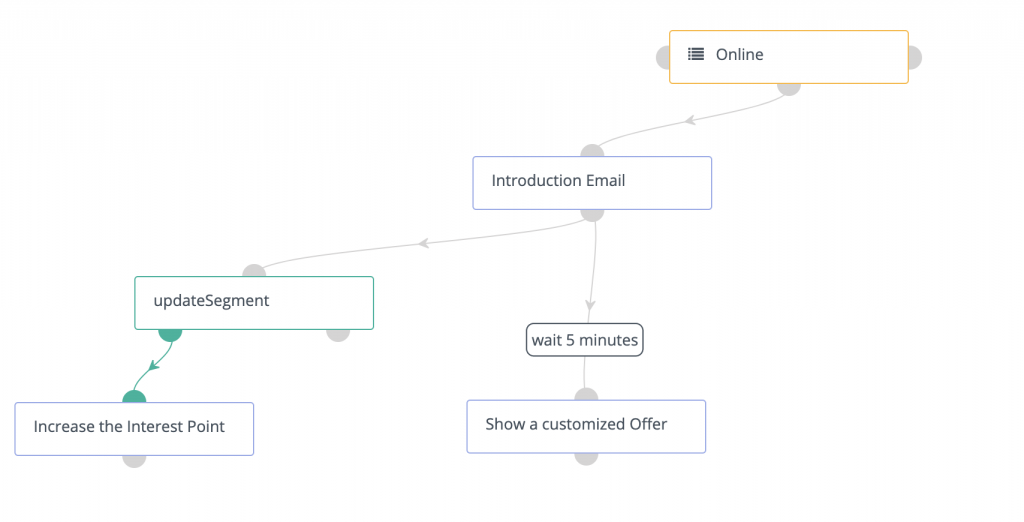 Let us look at the some possible visitor scenarios to the dealership website.
Anonymous Visitor
Anonymous visitor : Prospect A comes into the dealership website through a referral channel. He looks at the dealership SRP page and clicked on couple of vehicles. Then he engages with the Digital retailing CTA but does not complete the lead form.
Returning Visitor
Prospect A returns to the website at a later time and browses around but this time submits some personally identifiable information and looks at different payment options. Now he becomes Lead A.
Returning Lead
Returning Lead: Lead A returns to the dealership website in the future and engages across multiple vehicles but never converts into a customer. In a pure omni channel scenario a lead may have started in store, a sales consultant may have provided a quote and the lead may reengage back online through the link from the E-mail.
Agile, in the marketing context, means using data and analytics to continuously source promising opportunities or solutions to problems in real time, deploying tests quickly, evaluating the results, and rapidly iterating.
What kind of data are we talking about here?
There are many ingredients for the secret sauce in our marketing stack, but at a high level we track some of the following attributes from the visitor traffic to build a customer profile for each website interaction.
Traffic origin & Url parameters
Advertising campaign identifiers
Browsing behavior
Click through rate on different CTAs
Engagement Timeline
The information in the data model remains same across the omni channel customer journey across different devices.

What kind of marketing actions are we talking about here?
In the current scenario the lead response actions are usually send from the CRM. The first response is usually a thank you mail for submitting the lead followed by a sales person/BDC email engaging the prospect. Then there could multiple follow up emails/calls to entice the prospect to make a showroom visit.
In Agile Marketing, programmatic actions are done based on real time user behavior and guided by the data collected in each session. An action can be a dynamic popup while the user is still browsing on the site or it could be a personalized email on cart abandonment. The advantage here is that there is no need of a human involvement until the platform qualifies it as a potential sales lead. Marketing Automation Engine can be used to create rules that can take the visitor through the funnel.
The visitors are dynamically segmented into different groups and rules are executed on the customer profile:
1- Does giving an offer to this customer increase the chance of conversion?
2- If yes, what kind of offer email would work best? Offer them different trims at same monthly payment ? Or different monthly payment of the same car at different terms.
---
If you are in the market for a digital retailing platform that can super charge your sales and marketing efforts, reach out to us for a demo at contact@tagrail.com.