Tagrail Digital Retail Platform is a dealer-customizable and brand-able online and in-store car-buying platform to help high-end dealerships attract, engage, and close more online shoppers through a frictionless online transition from their living room to your showroom. Tagrail is the only platform that currently supports online transactions, in store transactions, e-negotiation and mobile e-contracting across both One Price or traditional sales processes.
Part of its DealerTag™ technology suite, the TagRail Digital Retail Platform helps larger dealers deliver an interactive and engaging online-to-in-store buying experience for millennial, affluent, and busy high-line vehicle shoppers and buyers. DealerTag™ app helps the dealerships in providing a transparent and shoulder-to-shoulder experience between sales consultants and the customers.
This post will give a quick introduction on our product offering.
The TagRail Digital Retail Platform pulls its shoppers forward through the sales funnel so that 70% of them will complete their transaction compared to 30% on other types of online digital platforms, and online purchases average $700 higher in gross than do walk-in transactions. This all-digital shopping experience has users completing 90% of the traditional in-store buying steps from their living rooms, including e-signature and e-contracting where ever allowed, cutting the showroom dance to an hour or less. Progressive dealers can provide an engaging experience through additional tools like an Online Concierge, who can be available to assist customers through video/text chat.
The digital shopping solution captures user activity, providing the dealer with accurate shopping behavior and steps through the sales funnel. This data points to opportunities for continuous improvement and analysis while it pushes hot leads and order-pending opportunities to the dealership CRM. Mobile flexibility puts all deals on sales consultant's smartphone and other mobile devices for easy lookup and modification.
For consumers, there is a four-step online transaction experience :
Discover:
Guides them through a needs assessment to find the right vehicle, select a preferred sales consultant to work with; and pick trade-in options, review rebates, and choose monthly payments.
Select:
Empowers shoppers to compare scenarios — new, used, purchase, or lease; message with sales consultant via video and text; and, select accessory and protection product options and schedule a test drive.
Finalize:
Get pre-approved credit before visiting the showroom, obtain credit check, and use and secure upload to submit documents such as pay stubs and driver's license to close the deal.
Pickup:
Buyers schedule pick up time in advance, documents ready for print and approval for customer arrival, promises to get customers in and out in 60 minutes.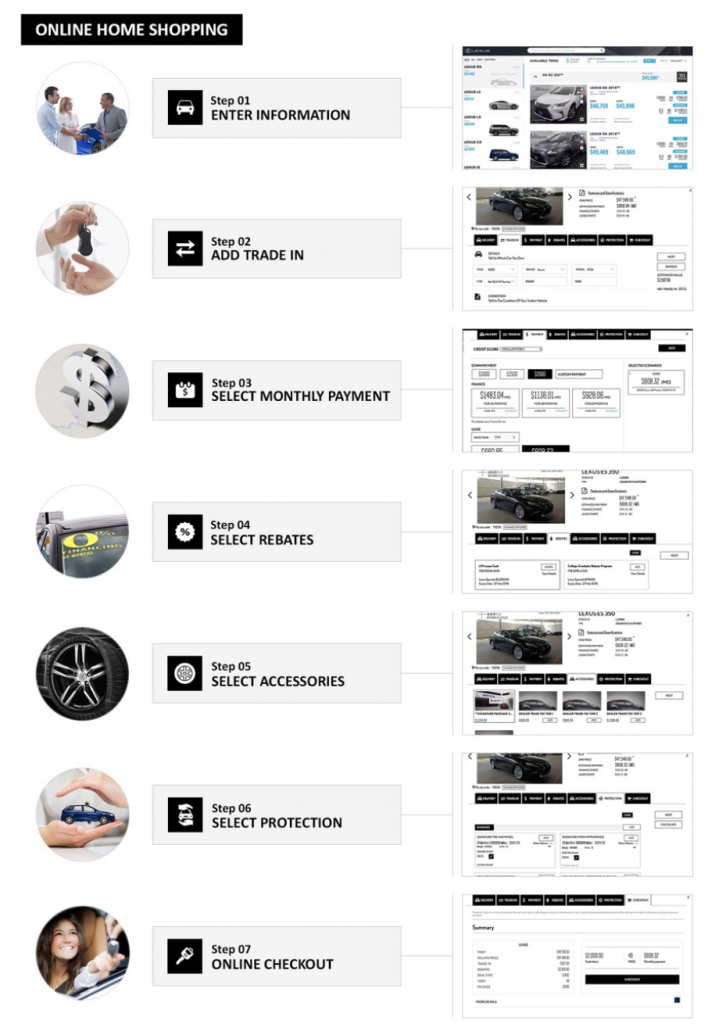 Dealers easily customize the tool's sequence of activities in which customers will engage its dynamic interface, based on user data analysis or dealer preference:
• Trade-in appraisal, using guides from different vendors based on dealer preference
• Accessories, offering dynamic and color product options and descriptions for the dealer's choice providers to help shoppers view and choose customization products
• Rebates, to help shoppers apply incentives to their vehicle choice
• Protection, a menu of dealer-selected, VIN-specific vehicle protection products, including service contracts, GAP, and other investment-protection products
• Payment, enabling users to submit what they believe their credit score to be, from which this digital platform calculates payments for finance and lease options.
A showroom visit is necessary to finalize the trade appraisal, complete credit application and credit check, and for vehicle delivery, though the dealer may choose delivery options. Dealership CSI increases where consumers enjoy this type of near-total living room shopping and buying experience. Likewise, when customers are offered online, self-selection product options they up sell themselves, resulting in higher per-vehicle retail dollars.
The Online component can be combined with the in-store app to provide an exceptional customer experience. A transaction that is worked by the customer at home will be penny perfect and the deal can be pulled up by the sales consultant in the Dealer Tag App. The Sales consultant can verify the details with the customers and run a credit check and then push the deal for approval from the financing agencies. The use of app makes it "Apple easy" for customers and sales consultants to go over the details, finalize the deal and E-Sign it. The whole process can be cut down to less than an hour and some of the customer frustration with wait time can be eliminated. The platform also allows for two-way messaging and video conversations to make the experience seamless.
For more details please visit us http://www.tagrail.com/